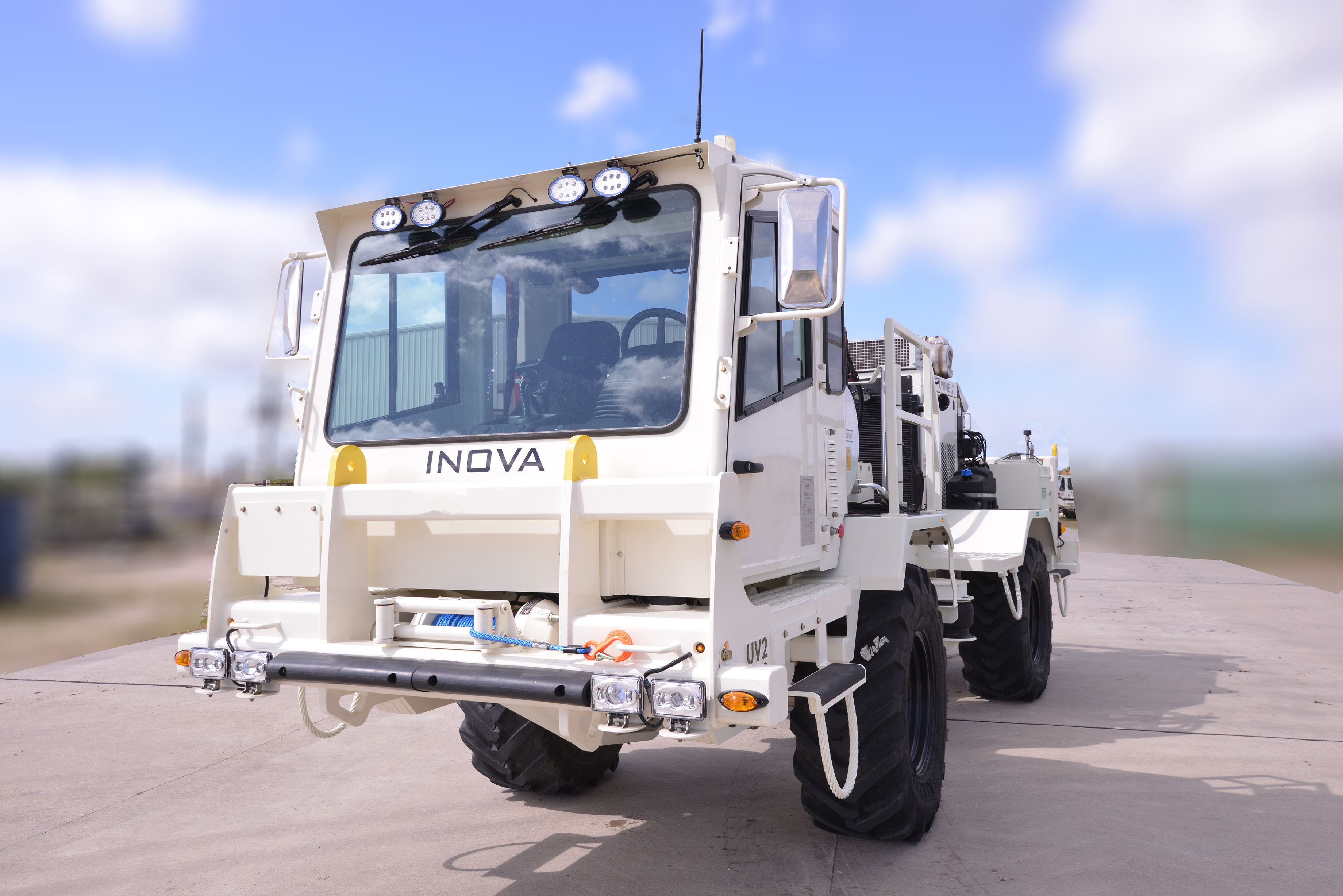 small vib. BIG IMPACT
Apr 29, 2020
---
Introduction
Our newest small-scale vibrator vehicle ,the UV2, delivers up to 34,000 lbs of hold down force , whilst proving a smaller footprint than conventional vibrators, agile enough to manoeuvre through dense terrains and environmentally sensitive areas with minimal impact. A successor to the UniVib, the UV2 is the next generation of small scale vibrator vehicles, with enhanced control and monitoring technology, greater hold-down force, more powerful engine and a host of other advancements, this vehicle really is in a class of its own.
John Wei, Principal Scientist and Jason Criss, Chief Geophysicist at INOVA provided some insight into the development of the UV2.
Why develop UV2?
UV2 was developed based on market feedback that a vehicle heavier than UV1 was required to produce more energy at lower frequencies. A vehicle that reached a more 'middle weight' class compared to the small light vibrators and the more standard 60,000 lbs models.
This required some fundamental changes to the vehicle in order to produce high force penetration low frequencies, including a heavier reaction mass.
In addition, a more powerful 170 Horsepower (HP) engine, supports higher fluid flow rates required to produce sweeps at a very low frequency.
What are the Geophysical Benefits?
Increased force penetration at low frequencies, a significant increase has been recorded compared to previous generation small vibrators. At 3Hz for example, the increase is ~50% more force when compared to UniVib.
The UV2 also produces more force at high frequencies relative to its increased mass and hold-down weight.
Another key benefit is better ground coupling. This is achieved with this increased hold-down weight and a relatively small, very stiff baseplate.
What are the Operational Benefits?
A new feature CanBUS control and monitoring system, allowing the user a simple and intuitive interface to monitor vehicle performance and fault detection. Enhanced cabin design with improved comfort features, more ergonomic layout.
The UV2 engine can be configured to meet Tier 3, Tier 4i or Tier 4 Final regulations. With the addition of an after-treatment technology, the UV2 is certified to meet EPA Tier 4 and EU Stage 4 Final requirements.
What does integrating a VIb Pro HD controller bring to UV2 performance?
VibProHD is designed, and built to control INOVA vibroseis including the UV2. VibProHD includes time tested, patented software and firmware which has been utilized globally by nearly every seismic contractor for decades. The latest enhancements included the patented harmonic distortion reduction, modern electronics, and communication features to retrieve data from the unit wirelessly. Improved reliability sweep to sweep, amplitude and phase control.